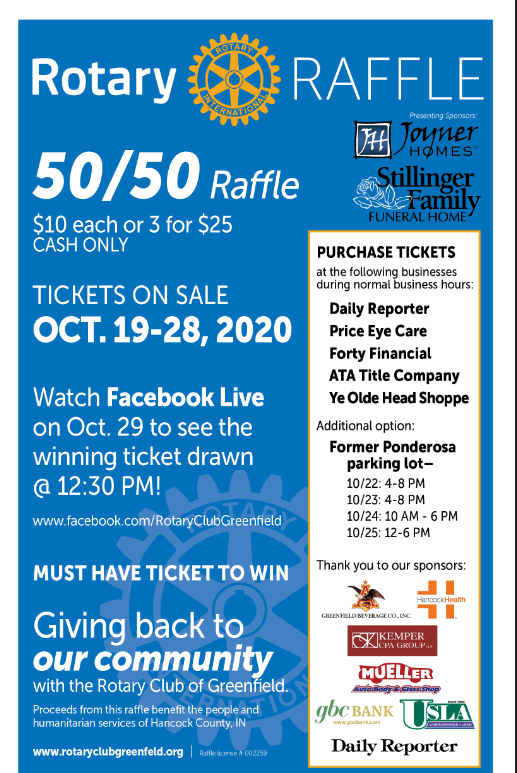 Rotary usually has a Steak 'n Bake 'n Raffle every fall and shares the proceeds with 5 local non-profits.  This year because of Covid, there will be no dinner but they are still selling 50/50 tickets to award several thousand dollars to local humanitarian organizations. With the support of their generous sponsors, the starting pot is $10,000 and will grow as tickets are sold.  Half the pot will go to the raffle winner and the other half of the pot will be split evenly among 5 deserving Hancock County humanitarian organizations, selected by the Rotary Club.
Kenneth Butler Memorial Soup Kitchen is honored to be one of the 5 non-profits selected. We are asking all of our supporters to purchase raffle tickets to increase the total that will be distributed.
Tickets will be on sale from October 19 to 28, 2020. Tickets will be $10 each or 3 for $25. Cash is the only acceptable method of payment and the winning ticket MUST be presented to win the winner's portion of the total half pot. You must be 18 years or older to enter and win the raffle. You may purchase tickets at:
ATA Title Company
Daily Reporter
Forty Financial
Price Eye Care
Ye Olde Head Shoppe
Drive-thru ticket sales will be conducted in the former Ponderosa parking lot on:
Thursday, October 22nd from 4 to 8pm
Friday, October 23rd from 4pm to 8pm
Saturday, October 24th from 10am to 6pm
Sunday, October 25th from noon to 6pm
The winning raffle ticket will be pulled during the October 29, 2020, Rotary Meeting.  You will be able to watch the drawing via live stream on the Rotary Facebook page at 12:30p.  Starting on October 20th, the total in the half pot will be posted on the Rotary Facebook page.