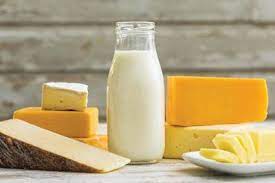 Recently, St. Michael's Knights of Columbus in Greenfield held a "Dairy Drive" for us, complete with milk cans at Mass for donations.  We asked for this type of drive because we go through a lot of milk, cheese, butter, etc.  They willingly obliged and surprised us with a check for $2837.77!  So, we now have our very own dairy fund!  
Howard Green called to tell me the total and vowed "to do butter next year"!!!
St. Michael's has been our director, Jill's home parish since birth and their kind generosity makes her so proud. Thanks so very much to all of the parishioners who help support the soup kitchen in many different ways.