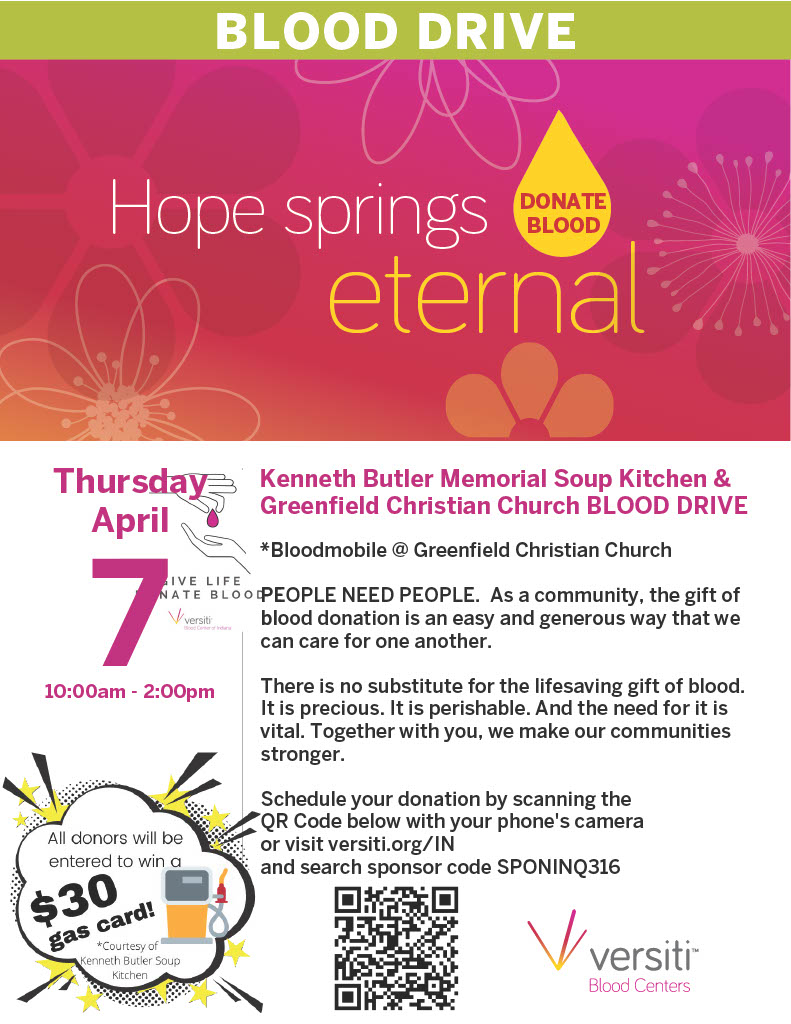 PEOPLE NEED PEOPLE; MAKE A DIFFERENCE IN SOMEONE'S LIFE BY DONATING BLOOD.
We must rely on each other for the gift of blood, and patients in our community rely on the generosity of Versiti's blood donors at blood drives like yours to help. Please make your appointment to donate at our upcoming blood drive with The Kenneth Butler Memorial Soup Kitchen and Greenfield Christian Church coming up on Thursday April 7th by following the link below. The Bloodmobile will be parked at the Greenfield Christian Church.
SCHEDULE YOUR DONATION HERE!
Generosity is contagious! Share the link above with a friend or loved one and encourage them to donate with you. With your advocacy, we can impact more patient lives and spread kindness in our community.
**All participating donors will be entered to win one of two $30 gas cards courtesy of the Kenneth Butler Memorial Soup Kitchen.
KENNETH BUTLER MEMORIAL SOUP KITCHEN
Thursday, 04/07/2022 (10:00 am – 02:00 pm)
202 East Main Street
GREENFIELD, IN 46140
Per CDC guidelines, masks are required while donating! Learn more.
© 2022 Versiti, Inc. All rights reserved. A 501c3 nonprofit organization.
Versiti Blood Center of Indiana | 3450 N Meridian St, Indianapolis, IN 46208
For more information call 317-916-5150 or 800-632-4722 Ext. 5150, or visit our website at www.versiti.org/indiana. Donors must be at least 16 years old, meet height/weight eligibility requirements, be in good general health and present photo I.D. prior to donating. Donors who are 16 years old must have written parental/guardian permission on an approved form.
There are no substitutes for blood, platelets or plasma—they cannot be manufactured. Patients in need of blood or blood products must rely on donations from people like YOU. Thank you for being a partner in our live-saving mission.